Research in the Sherratt group is aimed at understanding how DNA replication, recombination and chromosome segregation shape bacterial chromosome organization in the context of the living cell.
The research observes where genes and molecular machines are positioned as a cell proceeds through its growth and division cycles, and what happens when normal cellular behaviour is perturbed by different methods. Individual components of DNA organizing and processing machines are studied genetically, structurally and biochemically, and information on their molecular action is integrated into the context of their action in cells.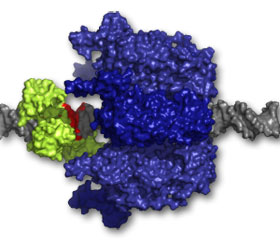 Model of FtsK C-terminal domain with hexameric motor (blue) and trimeric gamma-subdomain (yellow) bound to KOPS (red).
Research
Chromosome dynamics - genetic loci, replisomes and repair machines in space and time

Gene and molecular machine position can be followed in space and time in living cells. Genetic loci are tracked by simultaneous binding of fluorescent repressors to the arrays of their cognate operators inserted into the chromosome regions of interest. Replisomes, repair machines, and other chromosome processing machines are directly observed in live cells and studied biochemically and genetically.

Chromosome unlinking and segregation by the SMC complex, MukBEF, Topoisomerase IV decatenation and FtsK-XerCD-dif recombination

TopoIV and MukBEF and play sequential and coordinated roles in chromosome segregation, while FtsK-XerCD-dif recombination acts in unlinking by mediating decatenation in the replication termination region and converting chromosome dimers to monomers. In addition to quantitative imaging, we use biochemistry and genetics to integrate understanding of the molecular mechanisms of these processes.
Publications
Our most recent publications below.
Moolman MC, Krishnan ST, Kerssemakers JW, van den Berg A, Tulinski P, Depken M, Reyes-Lamothe R, Sherratt DJ, Dekker NH. (2014)

Slow unloading leads to DNA-bound β2-sliding clamp accumulation in live Escherichia coli cells.

Nat Commun. 2014 Dec 18;5:5820.

Fleurie A, Lesterlin C, Manuse S, Zhao C, Cluzel C, Lavergne JP, Franz-Wachtel M, Macek B, Combet C, Kuru E, VanNieuwenhze MS, Brun YV, Sherratt D, Grangeasse C. (2014)

MapZ marks the division sites and positions FtsZ rings in Streptococcus pneumoniae.

Nature. 2014 Dec 11;516(7530):259-62.

May PF, Pinkney JN, Zawadzki P, Evans GW, Sherratt DJ, Kapanidis AN.(2014)

Tethered fluorophore motion: studying large DNA conformational changes by single-fluorophore imaging.

Biophys J. 2014 Sep 2;107(5):1205-16.

Bailey MW, Bisicchia P, Warren BT, Sherratt DJ, Männik J. (2014)

Evidence for divisome localization mechanisms independent of the Min system and SlmA in Escherichia coli.

PLoS Genet. 2014 Aug 7;10(8):e1004504.

Lee JY, Finkelstein IJ, Arciszewska LK, Sherratt DJ, Greene EC. (2014)

Single-molecule imaging of FtsK translocation reveals mechanistic features of protein-protein collisions on DNA.

Mol Cell. 2014 Jun 5;54(5):832-43.

Uphoff S, Sherratt DJ, Kapanidis AN. (2014)

Visualizing protein-DNA interactions in live bacterial cells using photoactivated single-molecule tracking.

J Vis Exp. 2014 Mar 10;(85).

Nicolas E, Upton AL, Uphoff S, Henry O, Badrinarayanan A, Sherratt D. (2014)

The SMC complex MukBEF recruits topoisomerase IV to the origin of replication region in live Escherichia coli.

MBio. 2014 Feb 11;5(1):e01001-13.
→ For more listed on PubMed.
People
Research associate postdocs
Students
Technical staff
Visitors
Recent former lab members
Contact
Enquiries with CV welcome. For postdoc or graduate student positions, please contact Prof. David Sherratt directly.
Prof David Sherratt

Iveagh Professor of Microbiology
Lab: +44 (0)1865 613234
Office: +44 (0)1865 613237
Fax: +44 (0)1865 613238
david.sherratt@bioch.ox.ac.uk

Microbiology Unit
Department of Biochemistry
University of Oxford
South Parks Rd, Oxford
OX1 3QU, UK