Research in the Sherratt group is aimed at understanding how DNA replication, recombination and chromosome segregation shape bacterial chromosome organization in the context of the living cell.
The research observes where genes and molecular machines are positioned as a cell proceeds through its growth and division cycles, and what happens when normal cellular behaviour is perturbed by different methods. Individual components of DNA organizing and processing machines are studied genetically, structurally and biochemically, and information on their molecular action is integrated into the context of their action in cells.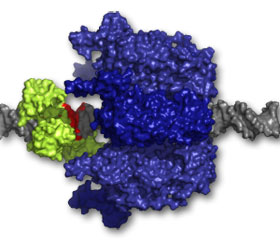 Model of FtsK C-terminal domain with hexameric motor (blue) and trimeric gamma-subdomain (yellow) bound to KOPS (red).
Research
Chromosome dynamics - tracking genetic loci in space and time

Gene position can be followed in space and time in living cells. Genetic loci are tracked by simultaneous binding of fluorescent repressors to the arrays of their cognate operators inserted into the chromosome regions of interest. Chromosome organization and segregation are also studied in relation to E. coli SMC proteins MukBEF and divisome components, such as FtsZ and FtsK.

MukBEF organizes the chromosome

We study the architecture of MukBEF complexes with epifluorescence microscopy, Structured Illumination Microscopy (image above) and with super-resolution PALM microscopy. We are trying to understand how the interplay between MukBEF, Topoisomerase IV and MatP regulates the chromosome architecture and segregation.

DNA repair in living E. coli cells

We investigate mechanistic details of DNA repair in living bacteria cells using super-resolution microscopy. The pathways we are particularly interested in are: homologous recombination, methylation damage and nucleotide excision repair pathway.
Publications
Our most recent publications below.
Reyes-Lamothe R, Sherratt DJ. (2019)

The bacterial cell cycle, chromosome inheritance and cell growth.

Nat Rev Microbiol. 2019 Jun 4 doi: 10.1038/s41579-019-0212-7

Stracy M, Wollman AJM, Kaja E, Gapinski J, Lee JE, Leek VA, McKie SJ, Mitchenall LA, Maxwell A, Sherratt DJ, Leake MC, Zawadzki P. (2019)

Single-molecule imaging of DNA gyrase activity in living Escherichia coli.

Nucleic Acids Res. 47(1):210-220

Zawadzka K, Zawadzki P, Baker R, Rajasekar KV, Wagner F, Sherratt DJ, Arciszewska LK. (2018)

MukB ATPases are regulated independently by the N- and C-terminal domains of MukF kleisin.

Elife. e31522

Uphoff S, Sherratt DJ. (2017)

Single-Molecule Analysis of Bacterial DNA Repair and Mutagenesis.

Annu Rev Biophys. 46:411-432

Stracy M, Jaciuk M, Uphoff S, Kapanidis AN, Nowotny M, Sherratt DJ, Zawadzki P. (2016)

Single-molecule imaging of UvrA and UvrB recruitment to DNA lesions in living Escherichia coli.

Nat Commun. 7:12568

Uphoff S, Lord D, Potvin-Trottier L, Okumus B, Sherratt DJ, Paulsson J (2016)

Stochastic activation of a DNA damage response causes cell-to-cell mutation rate variation.

Science. 351(6277):1094-7

Nolivos S, Upton AL, Badrinarayanan A, Müller J, Zawadzka K, Wiktor J, Gill A, Arciszewska LK, Nicolas E, Sherratt DJ (2016)

MatP regulates the coordinated action of topoisomerase IV and MukBEF in chromosome segregation

Nature Commun. 7:10466
→ For more listed on PubMed.
People
Research associates
Students

Contact
Enquiries with CV welcome. For postdoc or graduate student positions, please contact Prof. David Sherratt directly.
Prof David Sherratt

Iveagh Professor of Microbiology
Lab: +44 (0)1865 613234
Office: +44 (0)1865 613237
Fax: +44 (0)1865 613238
david.sherratt@bioch.ox.ac.uk