Research in the Sherratt group is aimed at understanding how DNA replication, recombination and chromosome segregation shape bacterial chromosome organization in the context of the living cell.
The research observes where genes and molecular machines are positioned as a cell proceeds through its growth and division cycles, and what happens when normal cellular behaviour is perturbed by different methods. Individual components of DNA organizing and processing machines are studied genetically, structurally and biochemically, and information on their molecular action is integrated into the context of their action in cells.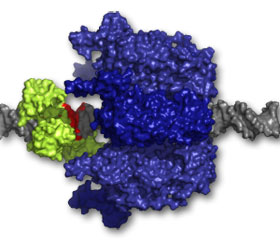 Model of FtsK C-terminal domain with hexameric motor (blue) and trimeric gamma-subdomain (yellow) bound to KOPS (red).
Research
Chromosome dynamics - tracking genetic loci in space and time

Gene position can be followed in space and time in living cells. Genetic loci are tracked by simultaneous binding of fluorescent repressors to the arrays of their cognate operators inserted into the chromosome regions of interest. Chromosome organization and segregation are also studied in relation to E. coli SMC proteins MukBEF and divisome components, such as FtsZ and FtsK.

Replisome dynamics - DNA replication, block and restart

The dynamics of the replication machinery (replisome) is studied by labeling replisome components with fluorescent proteins at the normal chromosome locus. Replisome dynamics is also studied in relation to chromosome segregation and cell division. Fluorescent repressor-operator arrays are also used to study reversible replication fork blockage and restart at a specific locus.

Site-specific recombination and DNA translocase FtsK

FtsK belongs to a family of DNA translocases involved in the acquisition of foreign genes during conjugation and in segregation of chromosomes during spore formation and cell division. In E. coli, FtsK acts at the last stage of chromosome segregation and controls the resolution of chromosome dimers. This latter activity is achieved in combination with site-specific recombinases XerCD acting at dif.
Publications
Our most recent publications below.
Fleurie A, Lesterlin C, Manuse S, Zhao C, Cluzel C, Lavergne JP, Franz-Wachtel M, Macek B, Combet C, Kuru E, VanNieuwenhze M, Brun Y, Sherratt D, Grangeasse C. (2014)

MapZ beacons the division sites and positions FtsZ-rings in Streptococcus pneumoniae.

Nature. 2014 DOI: 10.1038/nature13966.

Nicolas E, Upton AL, Uphoff S, Henry O, Badrinarayanan A, Sherratt D. (2014)

The SMC complex MukBEF recruits topoisomerase IV to the origin of replication region in live Escherichia coli.

MBio. 2014 Feb 11;5(1):e01001-13.

Lesterlin C, Ball G, Schermelleh L, Sherratt DJ. (2013)

RecA bundles mediate homology pairing between distant sisters during DNA break repair.

Nature. 2014 Feb 13;506(7487):249-53.

Bisicchia P, Arumugam S, Schwille P, Sherratt D. (2013)

MinC, MinD, and MinE drive counter-oscillation of early-cell-division proteins prior to Escherichia coli septum formation.

MBio. 2013 Dec 10;4(6):e00856-13.

Bisicchia P, Steel B, Mariam Debela MH, Löwe J, Sherratt D. (2013)

The N-terminal membrane-spanning domain of the Escherichia coli DNA translocase FtsK hexamerizes at midcell.

MBio. 2013 Dec 3;4(6):e00800-13.

Shimokawa K, Ishihara K, Grainge I, Sherratt DJ, Vazquez M. (2013)

FtsK-dependent XerCD-dif recombination unlinks replication catenanes in a stepwise manner.

Proc Natl Acad Sci U S A. 2013 Dec 24;110(52):20906-11.

Reyes-Lamothe R, Tran T, Meas D, Lee L, Li AM, Sherratt DJ, Tolmasky ME. (2013)

High-copy bacterial plasmids diffuse in the nucleoid-free space, replicate stochastically and are randomly partitioned at cell division.

Nucleic Acids Res. 2013 Oct 16. [Epub ahead of print]

Nolivos S, Sherratt D. (2013)

The bacterial chromosome: architecture and action of bacterial SMC and SMC-like complexes.

FEMS Microbiol Rev. 2013 Oct doi: 10.1111/1574-6976.12045.

Uphoff S, Reyes-Lamothe R, Garza de Leon F, Sherratt D, Kapanidis AN. (2013)

Single-molecule DNA repair in live bacteria.

Proc Natl Acad Sci U S A. 2013 May 14;110(20):8063-68.
→ For more listed on PubMed.
People
Research associate postdocs

Students
Technical staff

Visitors

Recent former lab members
Dr.

Anjana Badrinarayanan
Contact
Enquiries with CV welcome. For postdoc or graduate student positions, please contact Prof. David Sherratt directly.
Prof David Sherratt

Iveagh Professor of Microbiology
Lab: +44 (0)1865 613234
Office: +44 (0)1865 613237
Fax: +44 (0)1865 613238
david.sherratt@bioch.ox.ac.uk

Microbiology Unit
Department of Biochemistry
University of Oxford
South Parks Rd, Oxford
OX1 3QU, UK